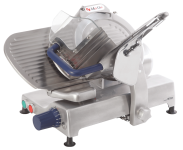 Krajalnica Ma-Ga 310p2 to udoskonalona wersja modelu 310p, której niekwestionowaną zaletą jest poprawa parametrów użytkowych, funkcjonalnych i jakościowych co daje gwarancję wydłużenia użytkowania urządzenia przy jednoczesnym zachowaniu tego samego poziomu cenowego jak w przypadku modelu 310p. Nowa technologia wytwarzania oraz projekt wzorniczy sprawiają iż urządzenie to charakteryzuje się większą estetyką i możliwością adaptacji do każdego wnętrza.
Model 310p2 dostępny jest zarówno w wersji standardowej przeznaczonej do krojenia wędlin jak również w wersji teflonowej, idealnej do krojenia sera.
Zapraszamy do zakupu.