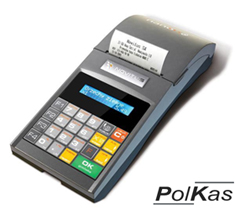 Nowa przenośna kasa fiskalna firmy NOVITUS to prawdziwy hit na rynku. NANO E mimo niewielkich gabarytów możliwościami dorównuje kasom standardowych gabarytów. Jej podstawowe zalety to niewielkie gabaryty, łatwość obsługi, bezawaryjny mechanizm drukujący, a przede wszystkim funkcja kopii elektronicznej.
Kopia elektroniczna umożliwia zapisanie paragonu przeznaczonego dla użytkownika kasy na karcie SD. Jedna 2GB karta wystarcza na okres kilku lat pracy (zapis ponad miliona 30 liniowych paragonów). Jednym słowem – to czysta oszczędność!
Jeśli potrzebujesz więcej informacji na temat kasy NANO E zadzwoń pod nr tel.: 12 634 05 44.